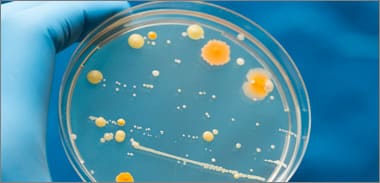 Correctly applying hypoxia to the growth of cell culture
There are 2 types of oxygen privation for cell growth, hypoxia and anaerobic. We discuss 2 types of chambers, CO2 incubators and anaerobic chambers that are used to these ends. Oxygen concentration in particular plays a key role in cell growth.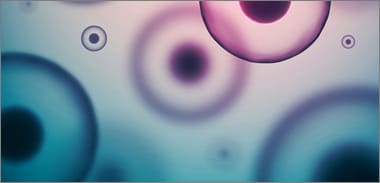 Hypoxia vs Normoxia: Hypoxia as a growth accelerator:
The in vitro cultivation of mammalian cell cultures in CO2 incubators is extremely challenging for the lab technology used. Simulating real physiological conditions is provided by the culture medium and the vessel, but the incubator controls four key factors: the temperature, the CO2 concentration, the osmolarity, and also the oxygen partial pressure.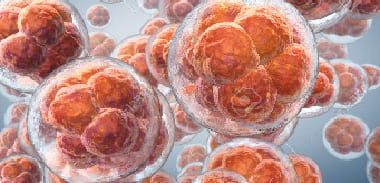 Normoxia – the benchmark for ideal cell growth:
If you simulate the human organism as a "working environment", then the correct oxygen supply plays a key role in the response of the cells. When the oxygen supply is normal in a healthy human being, we call this normoxia. This describes the physiological O2 partial pressure in the cell tissue. Research shows that the oxygen concentration varies widely in different types of human cells and is often under 21 percent, which is typical in the laboratory (normoxia).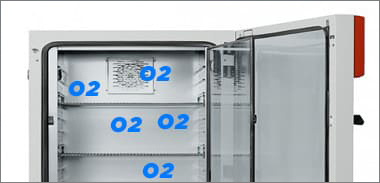 Precise regulation of the oxygen concentration
Fatty tissue, for example, has an oxygen concentration of around 10 to 15 percent and the bone marrow - 6 to 7 percent.
Lots of types of cells, therefore, grow best with a reduced oxygen concentration.
The lower oxygen concentration provides a better simulation of the physiological conditions. We refer to an oxygen concentration below the standard value (normoxia) as hypoxia.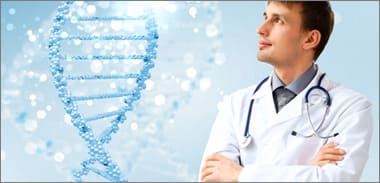 In vitro cultivation
For the in vitro cultivation of cell cultures in CO2 incubators, the term hypoxia does not refer to the disorder "hypoxia". Instead, it means cell cultivation under conditions with a reduced amount of oxygen.
The area of application is extremely broad and stem cell research is a prime example. Hypoxic conditions are also ideal for researching primary cell cultures and embryo cultures.
.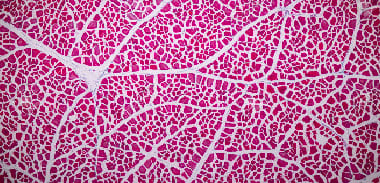 Researching sensitive tissues
CO2 incubators used for purposes like this must have an oxygen supply that can be adjusted at will. In addition to hypoxia, this also makes it possible to simulate hyperoxic conditions (21 to 90%), which are ideal for researching sensitive tissues such as the lung or retina.

"The lower oxygen concentration provides a better simulation of the physiological conditions"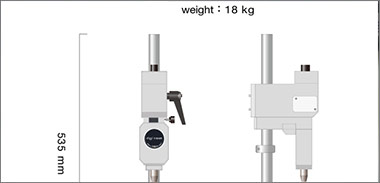 CO2 incubators from Binder
Because BINDER CO₂ incubators are safe, reliable, smart, and economical, they are perfect for every cell culture laboratory. The CB-S series masters cell production with ease. It is recommended for cell-based assays and is indispensable to the development of active pharmaceutical ingredients in the field of medical research.
With its high-end features, the CBF series proves its worth in the GMP environments found in the stem cell research and cell therapy sectors. All models are impressively easy to use and clean and stand out thanks to their pioneering BINDER anti-contamination concept.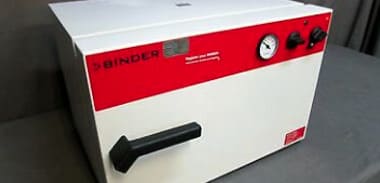 BINDER CB CO2 - tried & tested incubator series for cultivation under hypoxic conditions
The BINDER Incubator series provides excellent growth conditions for cell and tissue cultures, precise control of oxygen concentrations down to 0.2 vol% and a program-controlled hot air 180°C decontamination cycle. The BINDER CB series is the premium range for all sensitive incubation tasks. Even during complex cultivation experiments or in individual environments under hypoxic conditions, it is easy to grow thanks to suitable variants and a comprehensive assortment of options and accessories.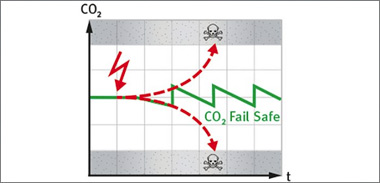 Cell-based assays in drug and medical research
The powerful and versatile CB CO₂ incubator is suitable for cell-based assays in drug and medical research. This BINDER incubator is even suitable for complex cultivation experiments or individual environments with hypoxic conditions thanks to its comprehensive assortment of options and accessories.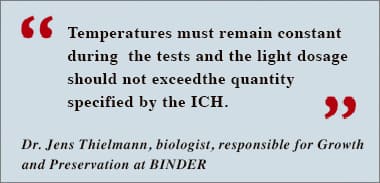 Stability and photostability testing
Stability and photostability testing is used in studies targeted at providing information on how the active pharmaceutical ingredient (API) or the finished pharmaceutical product (FPP) changes over time subject to temperature, climate, and light. Follow-up inspection deadlines for the active pharmaceutical ingredient, expiry dates, and recommended storage conditions are determined on the basis of this data. Constant climate chambers are key when it comes to carrying out these studies.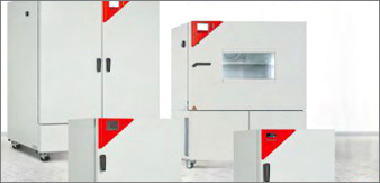 Choosing the best constant climate chamber
Accuracy and reproducibility of parameters, reliability, and durability in continuous operation are the top priorities for a constant climate chamber. The robust stainless-steel interior should be corrosion-resistant and easy to clean. Programming must be intuitive and documentation must meet the requirements of FDA 21 CFR Part 11 regulation. Calibration certificates, data loggers, and validation documentation should of course also be included.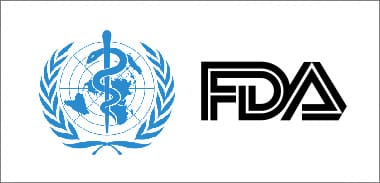 Further important guidelines: WHO, FDA, MHW, and VICH
Further important guidelines have been published by the World Health Organization (WHO): "Stability testing of active pharmaceutical ingredients and finished pharmaceutical products". Guidelines have also been published by the following organizations: the Food and Drug Administration (FDA), the European Medicines Agency (EMEA), and the Ministry of Health and Welfare (MHW) in Japan. For active pharmaceutical ingredients in veterinary medicine, VICH GL3(R) "Stability Testing of Veterinary Drug Substances" and VICH GL5 "Photostability Testing of New Veterinary Drug Substances and Medicinal Products" serve to describe corresponding stability testing.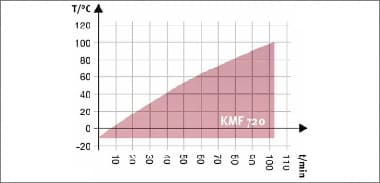 The essential technical factors required in constant climate chambers in the pharmaceutical industry:
1. Temperature-humidity charts
Temperature-humidity charts provide a quick overview of all attainable temperature and humidity values as well as climate conditions. The performance ranges of the different constant climate chambers vary considerably. For example, as well as meeting all the climate conditions stipulated by the ICH guidelines, some models also satisfy those of the five climatic zones I to IVb. Such models are extremely versatile and, if required, can be used in conjunction with each other as universal backups. Other models simulate only certain climate conditions and therefore have a very limited range of applications.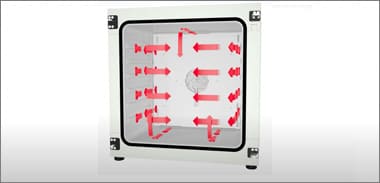 2. Horizontal vs vertical airflow - which is better?
In the case of horizontal airflow, air diffuses evenly over each shelf, irrespective of the shelf's position in the climate chamber. Optimal temperature and humidity distribution is achieved when the chamber is loaded. This is especially true in the case of a double-sided, horizontal airflow.
In the case of vertical airflow, i.e., from bottom to top, air diffuses through the shelves, starting from the bottom, working its way upward to the middle, and finally reaching the top shelf. The air distribution is essentially hindered by each shelf, resulting in inevitable restrictions in air flow.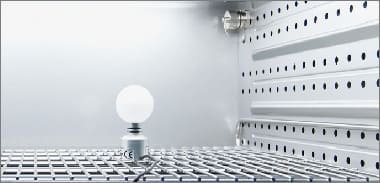 3. Light sources and illumination levels for each time unit are to be respected!
In the case of photostability testing in accordance with ICH Q1B, light supplements temperature and humidity as an important parameter. The visible light (VIS similar to ISO 10977 (1993)) must reach an exposure period of at least 1.2 million lux per hour and near-ultraviolet must be at least 200 h/m² (320 nm to 400 nm).
As is the case for temperature and humidity, uniform light distribution over each shelf is of special importance. Here, the essential specifications are the distance, the intensity, the type of sensor, and the reflectors that are used.
As with temperature and humidity, the light must be programmable and the documentation must satisfy the FDA 21 CFR Part 11 regulation.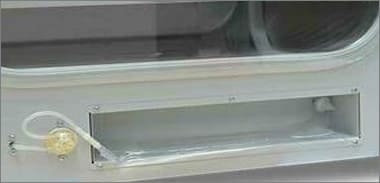 4. Humidifying water
It is not just the type of humidification that is important – the water that is supplied to the constant climate chamber has to be of good quality. Connection to a water supply and drainage facility on-site is one option. Using large-volume water canisters to supply fresh water and collect wastewater directly at the constant climate chamber is another. The latter option enables the chamber to be installed far away from an on-site water supply. Ion exchangers prepare the fresh water to the requisite quality in both cases.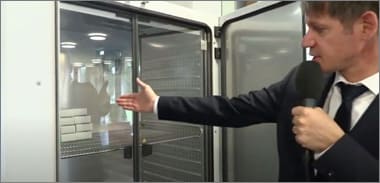 5. Long continuous operation and other challenges
Constant climate chambers run for well over 8,000 hours per year in continuous operation. Robust design, long-lasting materials, and components must assure that these demanding running times are maintained over many years.
To minimize the risk of time-consuming cross-contamination and biological contamination inside the constant climate chamber, an easy-to-clean interior is absolutely essential.
High-alloyed, monochromatic stainless steel, rounded corners, autoclavable shelving, steam humidification, and an absence of synthetic materials in the interior are just some of the key aspects. Some models also have an extended temperature range of up to 100°C, meaning that sterilization is possible.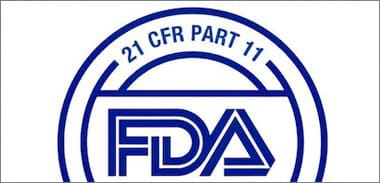 6. Documentation assures real quality
Another important factor in meeting industry standards is the availability of complete and end-to-end documentation of all relevant parameters for each and every operating state. Documentation is to be maintained in accordance with the FDA 21 CFR Part 11 regulation for electronic records and signatures. Calibration certificates for temperature, climate, and light, data loggers (process documentation for independent data recording), and validation documentation with IQ (Installation Qualification), OQ (operation qualification), and PQ (performance qualification) are also required.
BACTRON anaerobic chambers: greater chamber integrity than disposable pouches and jars with the flexibility of sizing and high durability.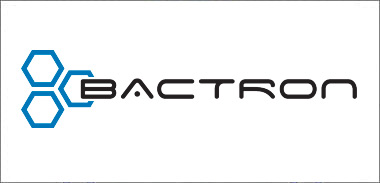 0 exposure to Oxygen!
The BACTRON anaerobic environmental chamber is designed to allow efficient and dexterous glove-free handling and inspection of samples. Modular systems within the BACTRON anaerobic chamber facilitate the completion of procedures from unpacking material to inoculation, incubation, inspection, and recovery—all with zero exposure to oxygen.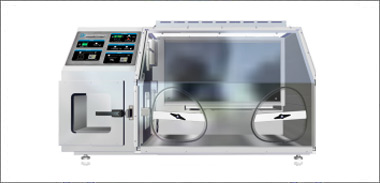 Improved culturing in Anaerobic Chambers
Anaerobic chambers significantly improve culturing and identification. They also reduce consumable costs typically experienced with the use of anaerobic jars or bags. Anaerobic chambers from Sheldon Manufacturing combine glove-free handling of samples with a consistent, oxygen-free environment that promotes faster sample turnaround.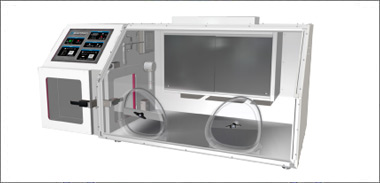 Workflow advantages
These chambers are constructed with heavy-duty stainless steel components to ensure chamber integrity and longevity. The BACTRON brand offers a variety of models to meet the ergonomics demands of various applications and workflows. Ample workspace within the BACTRON anaerobic chamber facilitates the completion of procedures from unpacking material to inoculation, incubation, inspection, and recovery - all without a single exposure to oxygen.