CARBON AND NITROGEN ANALYSIS IN SOIL

Determine Carbon and Nitrogen in different soil types with the VELP CN 802 Elemental Analyzer as a part of the Wepal International Proficiency Testing Program.  A healthy, high-quality soil functions as a vital living ecosystem that sustains plants, animals, and humans.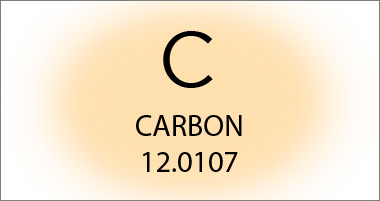 Carbon
Carbon is present in the soil in two different forms: inorganic and organic. Inorganic carbon consists of mineral forms of carbon, while soil organic carbon refers to organic compounds as plant and animal detritus, cells and tissues of soil microbes, and substances that soil microbes synthesize. In this respect, Total Organic Carbon determination (TOC) is important because high levels in soils prevent the anaerobic digestion process and limit the subsoils' nitrogen enrichment.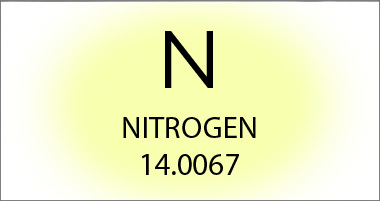 Nitrogen
Nitrogen is a very important macronutrient for plant growth, plant food processing and the creation of chlorophyll and is rapidly cycled in the soil as decomposer microorganisms break down organic matter.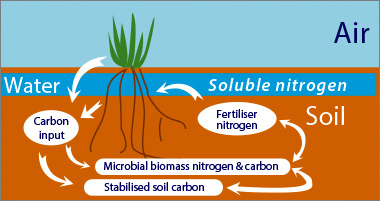 Interactions between Carbon and Nitrogen
The links and interactions between Carbon and Nitrogen are extremely relevant when understanding different soil characterization and conditions. The Carbon-to-Nitrogen ratio (C:N ratio) is of primary importance because it has a direct impact on residue decomposition and nitrogen cycling in soils. The higher the ratio, the longer it takes for the material to decompose.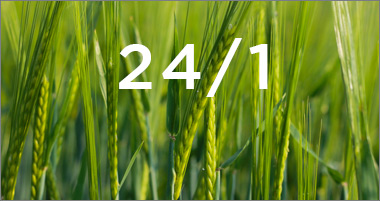 The Carbon - Nitrogen ratio
Likewise, the smaller the ratio is, the more rapidly the plant material will decompose. This also has a direct relationship with the amount of nitrogen that is tied up in the soil and that will be available to the next growing plant. The ratio 24:1 is the proper carbon and nitrogen that a microorganism must have to sustain its health.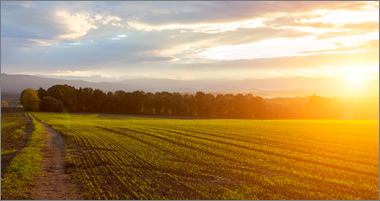 Assessing the soil quality
By determining and monitoring soil Carbon-to-Nitrogen ratio and dynamics it is possible to assess soil quality and productivity indicators, ultimately making the right choices in terms of sustainable crops, rotation, and Nitrogen fertilization. For instance, as farm managers it is critical to be aware of C:N ratio to plan proper rotations and to blend certain types of crops with others if needed to get close to the optimum C:N ratio of 24:1.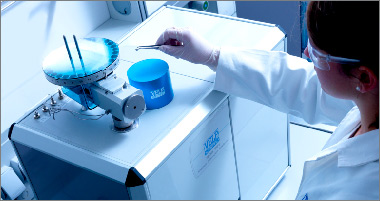 VELP Elemental Analyzer
VELP CN 802 is a versatile, cloud-enabled and fully automatic combustion analyzer for simultaneous carbon and nitrogen determination in different organic matrices. Ensuring high accuracy, improving sample throughput and requiring minimum maintenance, the CN 802 is the ideal solution for Total Carbon, Total Nitrogen and C:N ratio according to official methods for laboratories, research centers and Quality Control in the Agronomy, Environmental and Food & Beverage industries.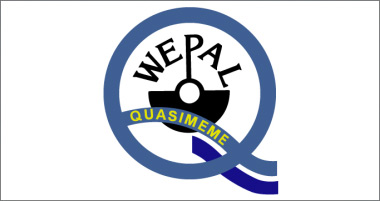 WEPAL Proficiency Testing Program
CN 802 analytical measurements are successfully evaluated every year by joining the Proficiency Testing Program organized by WEPAL (Wageningen Evaluating Programs for Analytical Laboratories). Samples of different soils and sediments are received and analyzed using the CN 802 and the results obtained (C %, N % and TOC %) are successfully compared with the statistical range accepted by WEPAL.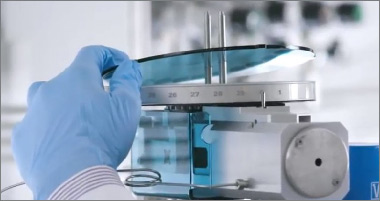 Good repeatability and accuracy
Data from the analyses performed in 2019 and 2020, listed in the table below, show the good repeatability and accuracy of the CN 802. Very different types of soil samples in terms of Carbon and Nitrogen values such as sediment river clay, clay soil or sandy soil were analyzed and all the results were successfully compared with WEPAL expected results.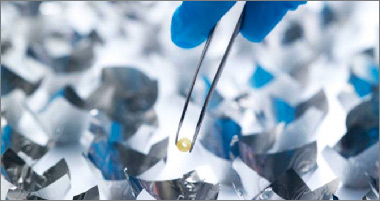 Prepare your sample and walk away!
The CN 802 is powered by the CNSoftTM software and produces unsupervised, simultaneous results in 5 minutes
Total Carbon - TC
Total Organic and Inorganic Carbon (after acidification) - TOC, TIC
Total Nitrogen - TN
C/N Ratio
The CN 802 is a safe analyzer that does not require aggressive chemicals or time-consuming analysis steps. Just prepare your sample and walk away!
Different types of soil samples analysed
Sample 2019-2020

Element
%

VELP Results
Average*
%

WEPAL Assigned value
% Xpt

WEPAL SD
% s(Xpt)

Compliant with WEPAL

Sediment river clay

C

7.023

6.981

0.245

OK

N

0.370

0.372

0.019

OK

TOC

6.107

5.882

0.495

OK

Sediment

C

4,574

4,51

0.130

OK

N

0.158

0.158

0.013

OK

TOC

3.188

2.980

0.590

OK

Clay soil W-19

C

2.577

2.539

0.092

OK

N

0.138

0.142

0.011

OK

TOC

1.556

1.503

0.199

OK

Clay soil W-20

C

2.524

2.520

0.05

OK

N

0.084

0.090

0.009

OK

TOC

0.807

0.734

0.101

OK

Sandy soil W-19

C

1.762

1.724

0.105

OK

N

0.111

0.109

0.009

OK

TOC

1.705

1.667

0.153

OK

Sandy soil W-20

C

2.400

2.470

0.18

OK

N

0.146

0.156

0.024

OK

TOC

2.343

2.34

0.22

OK

Forest Sandy soil

C

5.006

5.224

0.620

OK

N

0.152

0.168

0.023

OK

TOC

5.193

5.119

0.854

OK

Calcareous soil

C

3.543

3.55

0.08

OK

N

0.038

0.047

0.011

OK

TOC

0.499

0.499

0.013

OK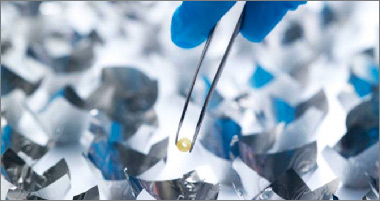 Versaile and sensitive
With the CN 802 you can load different matrix of solid, semi-solid and liquid samples at the same time. Carbon detection from ppm - 150 mgC, the lowest Nitrogen LOD in the market of 0.001 mgN with Helium and the RSD lower than 0.5% (EDTA) assure you high precision results and excellent reproducibility.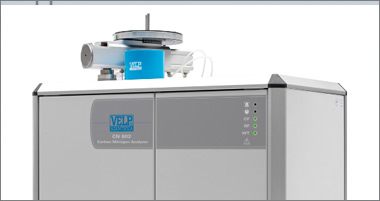 Efficiency for your lab
The selective Non-Dispersive Infrared NDIR detector is maintenance-free and reads only Carbon content;
The CN 802 LoGasTM TCD works with no reference gas ensuring accuracy and precision;
Very low oxygen consumption thanks to optimized combustion;
The maintenance-free DriStepTM water trap is a physical trap that removes 99% of water, reducing the cost of chemicals;
CN 802 is easy to install and extremely compact saving valuable bench space in your lab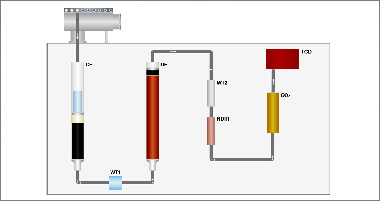 HCN 802 working process
Water separation is performed in 2 steps. The first is the maintenance-free physical trap DriStep™ (WT1) strategically placed after combustion. The second is a chemical trap (WT2), ensuring the complete elimination of residual 1% of water.  The combination of high temperature and the exclusive VcopperTM reduces nitrogen dioxide to molecular nitrogen inside the reduction furnace. The VELP NDIR detector precisely detects Carbon concentration with an excellent limit of detection. The auto-regenerative CO2 absorbers trap carbon dioxide in order for the exclusive TCD (Thermal Conductivity Detector) to detect the Nitrogen content.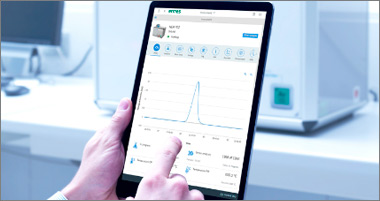 CNSoft™
It is possible to choose from a rich library of pre-installed methods and create customized ones. An easy calibration curve creation for Carbon and Nitrogen allows for testing of any sample matrix with no memory effect. Run the complete Leak Test and choose whether to run it on the whole circuit or targeted by zone, after replacing a consumable for example.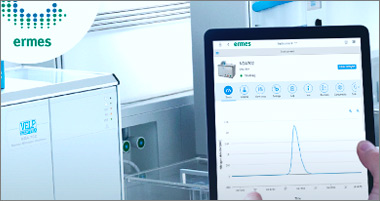 Interaction with Cloud
VELP Ermes allows you to manage multiple instruments, consumables, workflows and to drastically reduce diagnostic time to ensure a superior level of service with maximum data security and protection of your data.