Detecting hidden damage due to a car accident

A quick and clever way to uncover sloppy paint jobs and hidden car accident damage during the car prepurchase inspection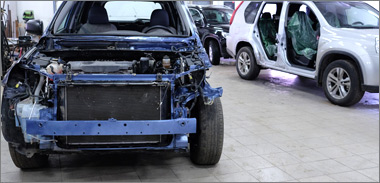 Identifying if a car has original paint, for collector cars or expensive used cars
By measuring the vehicle paint thickness, the Elcometer 311 Paint Meter identifies hidden damage on a vehicle, which is often not found in public or commercial condition reports. Using an Elcometer 311 Paint Meter in a pre-purchase inspection allows you to quickly identify hidden rework, impact damage, respray and filled body panels, which can all affect a car's resale value.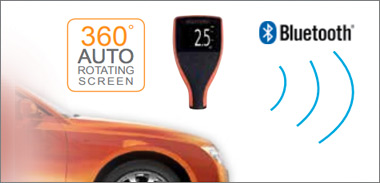 Elcometer 311 unique Index Value helps reveal non-original paintwork
Unlike other gauges the Elcometer 311 Paint Meter displays key statistical values used to assess the overall condition of the paintwork – it also has the unique Elcometer Index Value. The Elcometer Index Value provides inspectors with a single number that illustrates the vehicle's overall paint condition and establishes if any previous non-original paintwork has been undertaken. The higher the Elcometer Index Value the more severe the previous paintwork condition. And if you are working with your own inspection app, the new Elcometer 311 has Bluetooth® – allowing all the measurements to seamlessly pass to your Android™ or Apple® mobile device in real-time.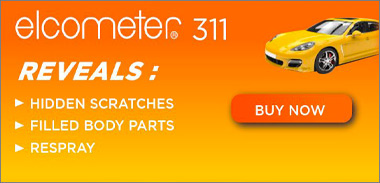 Key features:
Instantly switches between steel & aluminum panels without interruption; ideal for the luxury car market
Fast reading rate 60+ readings per minute; reducing inspection times
Pre-calibrated for immediate use; just add batteries and start measuring
Large, easy to read rotating color display; for measuring at any angle
Automatic screen brightness: read the display even in bright sunlight
Robust, water-resistant design with built-in temperature compensation; ensures accuracy in all weather conditions
Everything you need to take measurements straight from the box; including a protective carry case that easily clips onto your belt
Bluetooth® data output seamlessly connects to any PC, Android™ or Apple® mobile device for instant report generation
Inspecting the car coating to reveal the truth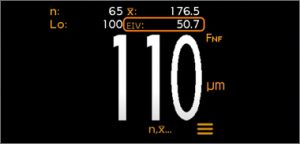 Using Elcometer 311 to measure paint thickness
Using either Mils or Microns, press the paint meter onto the bodywork - it's as easy as that. Move around the car, taking a number of readings from each panel, making sure you check body panels next to each other. As they often show significant differences after a respray. The paint meter easily switches between steel and aluminum, so you can examine any metal panel without having to change a thing. Perfect for high-end cars that use a combination of both.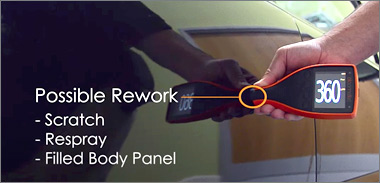 Signs of car body damage
A difference in paint thickness suggests that there's been rework of some kind. It could be a scratch or a filled body paint. If you ever see this reading it means the coating is over 500 microns or 20 mils thick, which means body filler has been used.  if the paint thickness is a lot thinner it suggests this is a replacement panel that's not been painted properly.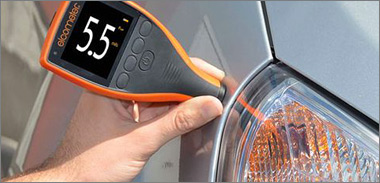 Elcometer helps determine overall vehicle condition
What's unique about Elcometer is that it displays the unique Elcometer index value, that determines the overall vehicle condition. the higher the value, the more likely it is the car had been reworked following an incident. The 311 can take over 60 readings per minute, giving you a great overall inspection and making it a top-of-the-line car body accident paint tester.
Geneq is the authorized Canadian distributor
If you have any questions,
Geneq professionals are ready to assist: